The UK gambling industry is booming. Although online casinos account for much of the growth in the market, bricks and mortar casinos and betting shops are doing well too. In 2005, the law was relaxed to make it easier to get permission to build new casinos, and since then new venues have opened up almost every year. Working in the casino industry can be an attractive prospect. As casinos are generally open evenings and weekends, it's a job you can fit around caring or studies. The salary is competitive, and there's a certain "glamour" to it. However, with so much money sloshing around the casino, employment vetting is standard. Most casino jobs in the UK will ask for a Personal Functional Licence, or PFL.
What is a Personal Functional Licence?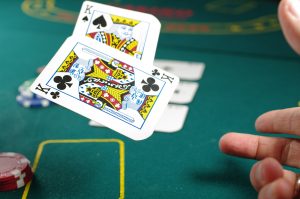 A personal functional licence (PFL) is a something which is essential for certain roles in a casino. It is a way of showing that you are of good character. Although it's not proof that an employee won't ever do anything bad, it's a way of weeding out people more likely to throw a game, or steal money.
Not everyone who works in a casino will need a licence. If you're applying for a job working behind a bar, cooking food or doing other tasks unrelated to the gambling, then you won't need to apply. Getting a PFL only applies to people who are directly involved in running the games of roulette, poker or blackjack. It also applies to people working as cashiers. Pit bosses, the people in charge of overseeing the whole operation, will also need a licence.
How Do I Apply for a PFL?
Unlike other types of check, the PFL is for the individual. You won't need to apply for a new licence every time you move into a new casino job. Apply online, through the Gambling Commission website. The cost of a PFL is  currently £185. Your employer might be prepared to cover this cost for you, especially if they think you're going to stay in the job for a while. Applications take around 8 weeks to be processed. The good news is that a PFL doesn't expire, and lasts indefinitely.
The form is quite extensive, and to avoid delays, needs to be completed in full. You'll need basic personal details like your name, date of birth, and an email address to use to log into the website. There is also a long list of other items you'll need. These include:
Address history going back 5 years
verified ID documents to upload onto the website
an ID verification form – this will be completed by your employer once they've checked your ID is genuine
credit or debit card to pay the fee
Disclosure and Barring Checks for a Personal Functional Licence
One of the most important parts of getting a PFL is going through the police checks. The Gambling Commission don't check up on your criminal record. Instead, the process is managed through the Disclosure and Barring Service in England and Wales, and Disclosure Scotland if you live north of the border. Separate gambling rules apply in Northern Ireland.
If you apply online, you can complete your DBS form at the same time. Scottish applicants will have a form sent out in the post. The disclosure form asks for lots of the same information as on your PFL form. Take care to complete the form properly, not missing out any vital information, and getting advice if you're not sure what to write in the boxes.
Will I be refused a PFL with a criminal record?
The gambling industry has to be squeaky clean. That doesn't mean however that it will be an outright rejection if anyone with a criminal record applies for a PFL. Cases are considered on an individual basis. If your convictions are minor, and a long time ago, the chances are that your DBS check will come back clear and the casino will be happy to employ you. More serious, or recent offences, are a different matter.
Although your PFL doesn't expire, holders have a duty to inform the Gambling Commission in certain circumstances. People who are made bankrupt, or who are convicted of serious offences after their licence is granted have to surrender it. There is lots of advice around this topic on the Gambling Commission's website.