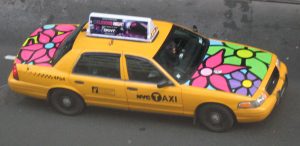 Uber is what's known as a "disruptor" in the taxi industry. That's to say, it's a company which has turned the way in which we hire taxis on its head. They don't use the traditional model of a dispatcher in a control room, taking calls and sending out taxis. Everything is done on the Uber app through smartphones. Also, Uber's employment strategy is different from traditional companies in that their workers are mostly part time, rather than full time cabbies. The legal arguments about whether drivers are employed or self-employed are ongoing, and what working checks drivers will need.
It's hardly surprising that other companies are looking at what Uber does, and want a slice of the action. One of the newest companies to get in on the act is Ola, an Indian company soon to launch in the UK. If you're looking for a part time job could Ola be for you? And what sort of working checks can you expect as an Ola driver?
What is Ola?
Ola is an Indian ridesharing company which was founded in 2010. After it was set up in Mumbai it expanded rapidly, first to other Indian cities and then across the globe. The first foreign markets for the company were Australia and New Zealand, and in March 2019, Ola announced plans to bring its services to London. There's been a lot of buzz about Ola, and 10,000 drivers have applied to join the service ahead of its launch.
From a passenger's point of view, there are a few key differences between Ola and Uber. Ola lets you book rides in advance, and doesn't charge you if you change your mind and cancel. But the differences are minor. Whatever app you use, you book rides on your smartphone and pay through the app, not the driver. The main benefits from a customer's point of view is that you pay up front and get a set price for your journey. You know who's picking you up, and you can leave feedback afterwards. Also, the driver can leave feedback for you. It's just a more modern way of doing things than the old fashioned phoning to book a cab.
Rules as an Ola Driver – Working Checks
Part of controversy over Uber was the lack of checks on their drivers. Let's not get bogged down in whether someone is employed, self-employed or a "worker". If you are driving a car in the UK and picking up passengers, you need to apply for a DBS check. DBS checks are a way of checking into a driver's criminal past. It's a responsible job, and people getting into cabs should know that they are safe. Local councils around the country have varying rules for licensing their taxi drivers. Most will ask drivers to prove that they are in the UK legally, and have the right to work.
Drivers will also have to show their driving licences, and prove their cars are up to scratch. There might be an English language check, or tests of local knowledge. Until all the checks are done, drivers shouldn't be allowed to pick up paying passengers.
The good news is that the application process doesn't have to be slow. Most of the large organisations like Uber or Ola have websites to guide you through the process. Processing time for DBS checks have decreased in recent months too, and most applicants get their certificate within around four weeks. However, there's no guarantee that Ola won't come up against the same problems which Uber have had with licenses.
Is it worth it?
It's tempting to see Uber, Ola and similar as a great way of earning a bit of extra cash. That's certainly the case once you have an account set up and are licensed as a taxi driver. Lots of drivers are registered with several ride sharing apps simultaneously. They can pick and choose which apps to use and when, and log in to work when they're ready. However, you'll have to be prepared for some investment before you get to that stage. You'll have to pay the fees for the DBS check and buy the licence from the Council. This can cost a few hundred pounds. So unless you're in it for the long haul, it's not a quick way of earning money.