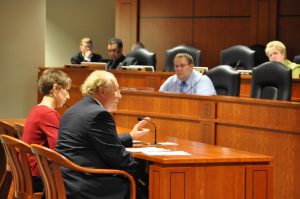 It sounds like the plot of a movie. Someone is accused of a crime they didn't commit, charged by the police and thrown into prison. After a lengthy court case, they're found not guilty, and are free to continue with their life. It might sound unrealistic, but it's something which happens to thousands of people a year. In Scotland, for example, 14% of cases which come to court end in a "not guilty" verdict. This is known legally as an acquittal. But how could this court case affect any DBS check you need in the future? Will being found not guilty ruin your chances of ever getting a job?
Levels of DBS Check
The issue around acquittals only applies to certain types of DBS checks, so it's important to understand two things. Firstly, what type of check you are having. Secondly, what information is on that particular certificate. It's important to remember that DBS checks are only a legal requirement for a small number of jobs anyway, so you might not have to apply for a DBS check at all. The least detailed type of check is the basic disclosure. This is merely a statement of your current, unspent convictions as listed on the police computer. Anything considered forgotten under rehabilitation law won't be on the certificate. Neither will your acquittal, as you were found innocent of the charges.
The issue might be more relevant with the more detailed level of checking, known as an enhanced check. This is the sort of disclosure you need to work with children, or in hospitals and care homes. This sort of check might show convictions which are considered spent under other circumstances, and might show what the police term "other information". It is in this section that your acquittal might be listed – but not always. Police decide what information to reveal on a case by case basis. If you were charged, tried and acquitted years ago on a charge which was nothing to do with the job you're applying for, it's unlikely to be disclosed. However, if you've been arrested, tried and charged a dozen times for violent or sexual crimes but never convicted, that's a different matter.
Dealing with DBS Certificate Information
There are thousands of UK adults with a criminal record so you're not alone. Employers are generally fairly understanding about distant criminal offences, especially those which are minor in nature. What employers don't like is being lied to. If you're told them that your record is clean, and they later discover you have recent convictions, they won't be impressed. It's always better to be honest up front.
Bear in mind also that your DBS certificate comes directly to you rather than to your employer. That gives you the chance to have a look over the certificate before your employer sees it. There might be old convictions you've forgotten about. There might be mistakes, and this gives you the opportunity to get errors corrected. Having a criminal record isn't the end of the world, and certainly doesn't mean not working in the future.